Two of the Most Influential Figures of the 20th Century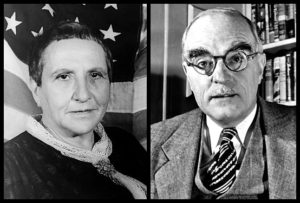 Gertrude Stein (1874-1946), American expatriate author, became a celebrity in Paris during the early 20th century for her salon that attracted artists like Picasso and Matisse and novelists like Hemingway and Fitzgerald. Her fame increased internationally with the publication of her best-selling The Autobiography of Alice B. Toklas.
Prominent Americans soon implored her to return to the States for a literary tour. In 1934 Stein, armed with six formal lectures, sailed to New York City. "Two Suits in One Act," the first of the evening's twinbill, supposes that Stein gives an unscheduled impromptu talk to a small gathering of students at a storefront college in Manchester, NH – an off-the-cuff speech in which she inadvertently reveals intimate glimpses of her Parisian life.
"In the Eyes of Wilder's Sister" is the evening's second one-act play. Thornton Wilder (1897-1975), the only American writer to win a Pulitzer Prize in both fiction and drama, strides onto the stage of the Morosco Theatre on the morning of September 27, 1938. He is giddy with happiness, having realized one of his lifelong ambitions — to act on a Broadway stage. Better yet, his is portraying the Stage Manager in his own drama "Our Town."
As Thornton rehearses his greetings to friends he expects later for a matinee performance, his estranged sister Charlotte storms into the theatre and accuses him of ruining her childhood. Thornton is soon forced to confront painful episodes in his own childhood.
Come see "An Evening with Gertrude Stein and Thornton Wilder" and join the irresistible company of two literary geniuses!